In this article, you'll find valuable product update information regarding our BRAND NEW forms release.
We are extremely proud to announce that our Forms Release is now live in Via! 🎉
Why are we so over the moon about this release? Because this release represents everything that Via is all about! Via exists because, like you, we believe that global experiences change lives. We also believe in collaboration, partnership, and listening to our users. So for those of you world citizens out there that engaged with us, emailed us, participated in user research, provided feedback, attended webinars and Via labs and one on one training - we thank you.
Thank you for taking the time to care enough to share your experiences and observations, your daily workflows and points of friction. Via is stronger for it and we appreciate each and every one of you.
Without further ado, here are just a few ways in which you'll benefit from the updates:
Easier, more intuitive template builder that will save you time
Consistent data fields throughout Via to ensure data confidence
Added Via personality and gamification to encourage students to move through their enrollment journey
Add Application to Travelers feature to grow participation
Admin delete features to help you clear your views of unwanted information
Application review notes feature to allow you to track admin-only data associated with applications
Forms Resources
To get up to speed, check out our updated Knowledge Base articles on Forms!
If you would like to revisit our forms updates in bite-sized chunks, see our New Forms Sneak Peek
Special Announcements
After this huge product update, see below for some special announcements
If you want to utilize our new forms features on existing templates we HIGHLY recommend

DUPLICATING

your current template and starting fresh with a new version. When you're ready, add it to your next application cycle!

🕵🏻‍♀️ History Log

We know you'll be excited about the new Whodunnit record that will show you who updated application statuses and to what status!
We are aware that all History logs currently have your migration date as the Application Created On date at the top of the History Log. We will be updating those shortly to reflect the actual Created On Date.
If you scroll to the bottom of the log, you will see the actual Created On date in the first item in the History Log
💵 Payment Dates on Payment Integration Questions

For payment integration clients, you'll notice the following:

If a traveler has already submitted payment, the payment status will be reflected correctly as displayed before the migration
If a traveler submitted payments before 2/3/2023, all past payment dates will be reflected showing as 2/5/2023.
To confirm payment dates, we recommend reviewing your payment site where you track your accounting.

✍🏾 Signature Date and Time Stamp

Because Signature date and time stamps are new - they will all appear as the date and time of your migration - for historic signatures
Going forward all new Signatures will show the date and time they occurred

✳️ Synced Fields no longer have an asterisk on Traveler Applications and General Forms

Synced (read-only) fields on Applications will not show as 'Required' because Via does not block a student from submitting an application or form with Blank, Synced, Required fields.
Students that are not from your campus and/or not signed in through SSO will still be required to fill out any fields you mark as Required
Accessing your NEW Builder
Want to access and start playing around in your new forms Builder? If so, make sure to click Builder on your main navigation menu. This will be your new home for all your current and future application and form templates.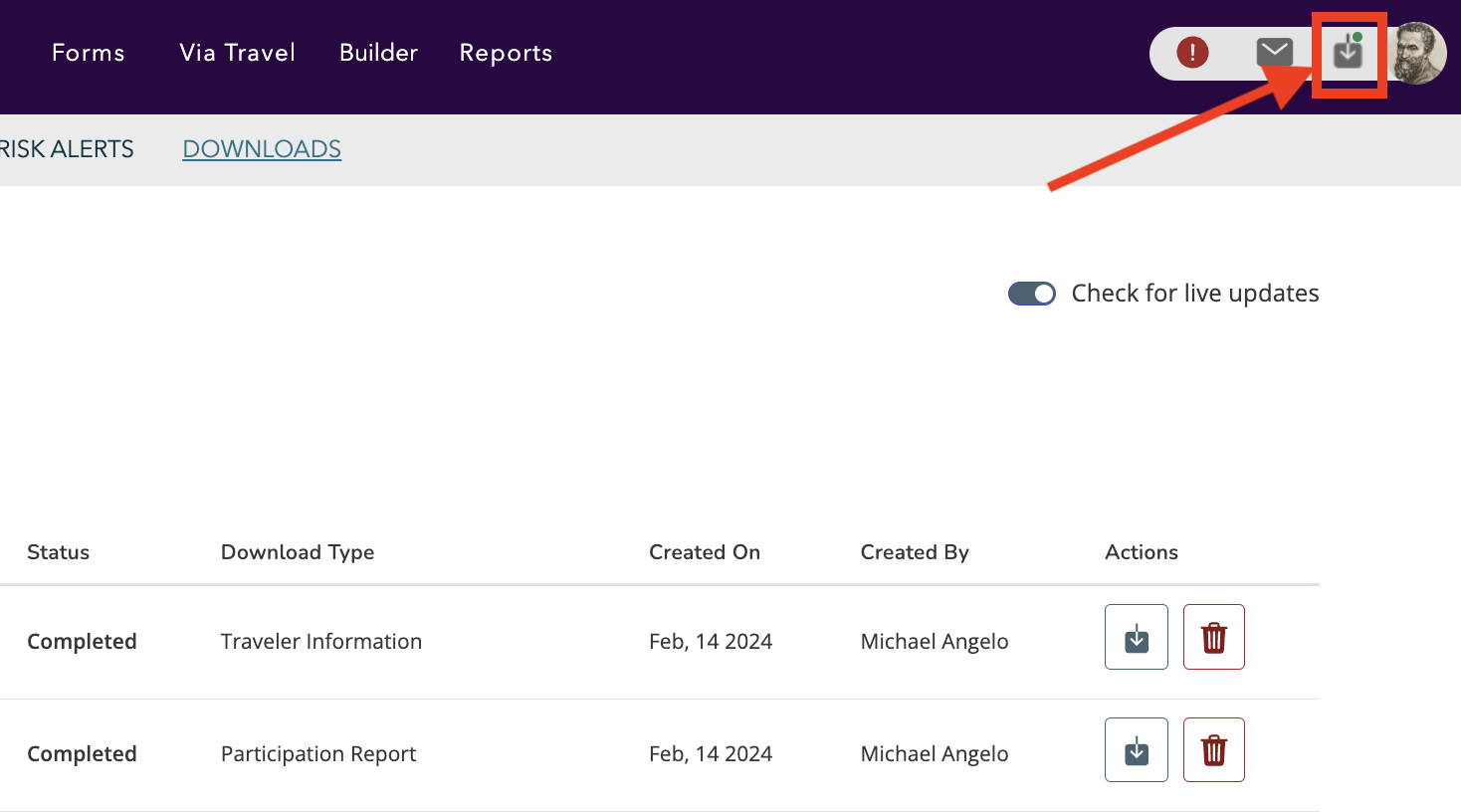 We know what you must be thinking...Woah, this is amazing!!! But I have a few questions. 🤔
Take a look at our Forms webinar FAQ below:
Forms release FAQs
Q: I have a form that I haven't completed yet because I was so excited about all the new features coming! Can I finish it now?
A: Yes! Head on over to your builder and have fun playing and discovering all the great new features and functionalities. Happy building!
Q: Can I add the new form features to an active application or form I am using currently in an open application cycle?
A: Keep in mind that editing active applications and forms could result in data loss from applications past and present! If travelers are mid-application cycle, we recommend waiting until future application cycles to utilize our new forms features on a current template. We recommend duplicating your current version, adding in any new features, publishing your template, then adding it to future terms.

Q: If we want to use a customized recommendation form, do we need to make a separate form and then add it to the application template?
A: That is exactly right! Before adding it to your application template, make sure to publish it first!
Q: Can a recommendation question (customized or default) appear as a result of conditional logic?
A: At this time, the Single Choice and Drop Down questions that contain logic can only be programmed to conditionally show either a Short Text, File Upload or Long Text question types.
Q: Can multiple questions be asked within a recommendation form?
A: Absolutely! The new recommendation forms that can be built by admins allow you to use all types of manual question types. Think of it as being able to build an application or form template from scratch!
Q: I have a waiver I'd like to create and it is text heavy, are there any text limitations for signature type questions?
A: Nope! There are no limitations when adding text to any of our question types.
Q: Can we use the new features to update forms that already exist?
A: You can add our new features to your programs, but we recommend being mindful in making changes to active templates. If you add or edit question types, those changes will appear on all traveler forms (past and present). If you delete any question types and replace them with the new features, all traveler data will also be deleted. We highly recommend you duplicate the current version of your template and add our new features there!
Q: For all the applications that were created or submitted before this release, will the reviewers see the applications in this new format or the old format?
A: All reviewers will see existing applications and forms in the new version!
Q: We have students that have already submitted applications, and we would like to add customized recommendation forms to all submitted and future submitted apps.
A: If there are submitted traveler applications (or forms) associated with an active template, we HIGHLY recommend not editing this template mid-application cycle. We advise duplicating your current template, editing and waiting to use it for your next application cycle. Alternatively, you could create a new 'pre-departure' form that includes a new recommendation question and add it to your program settings or suitcase.
Q: If I edit a template, will travelers that have already submitted the application be notified that an additional item is there to complete?
A: Travelers are not notified if you edit a template. If you edit a template, you could always filter on the application dashboard by Term Timing of Upcoming and Application Template = your edited template. Then select those Travelers and batch send them a message to notify them of the change.
Q: Is there a way to batch add applications to traveler profiles, or does an admin always have to add an application from the traveler profile?
A: Admins can only add applications to travelers one at a time. To start an application on the traveler's behalf, just head over to the traveler's profile. When you're in the traveler's profile click Actions on the top right side of a traveler's profile. You'll see the ability to start applications there.
Q: I still have some questions that you haven't answered, where can I find more information about Via's forms release?
A: Feel free to check out our 60+ new Knowledge Base articles as a great resource. Additionally, if you have any questions, please reach out to support@via-trm.com. We'll be happy to share all our knowledge to help you best utilize all of our new forms features.