Administrators in Via can create programs and privatize them. This means that Admins can decide who can 'see' a program and when. Admins can share a special link to their 'hidden' program with whomever they choose.
Here's how:
Login to Via and click Programs in the main navigation menu
Click the name of the program you want to make private
Click Edit Program
Scroll down to the Program State & Visibility section
Check the box next to Make program private
To share the private link, click on the URL or click Copy to copy the URL to your clipboard. Paste the link wherever you want to share it.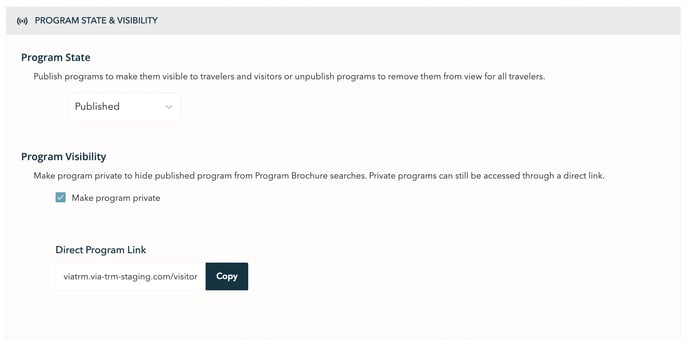 Admins privatize programs for many purposes. Some examples include:
A program that only a certain population can participate in
A faculty proposal program
A program with limited capacity
A generic program for non-University programs
Given a traveler is given access to a private program, they will be able to apply to that program (as long as an application is attached and the deadline is in the future).